FREE Delivery in your City!
You love shopping on Jumia? Now reach the next level of convenience and benefit from FREE Delivery for everything you buy on Jumia!
Jumia Primo is a paid subscription package that enables you to shop on Jumia with Zero Delivery Fees for a preset duration. This covers all items on Jumia, Jumia Express and Jumia Global items. Available in different locations at varying prices, the subscription process is absolutely stress-free!
With this particular package, you get free delivery in Cairo and Giza for 3 Months, Fair policy applied
Conditions that apply:
Jumia Primo subscriptions are available through prepayment only.
Jumia Primo Service will be automatically activated between 1h to 24h following the payment confirmation.
An activation Email will be sent to confirm the activation of Jumia Primo Service.
Jumia Primo subscription plans are limited in quantity and when all available subscriptions have been purchased, no more shall be available.
Usage of your Jumia Primo subscription shall be individual.
Jumia Primo cannot be used for professional usage. Professional usage can not be allowed when you place more than 20 orders per month.
Jumia Primo is not purchasable and usable by J-Force agents.
J-Force agents and any other agencies associated with this Offer are not eligible to enter.
Click HERE for the full Terms and Conditions.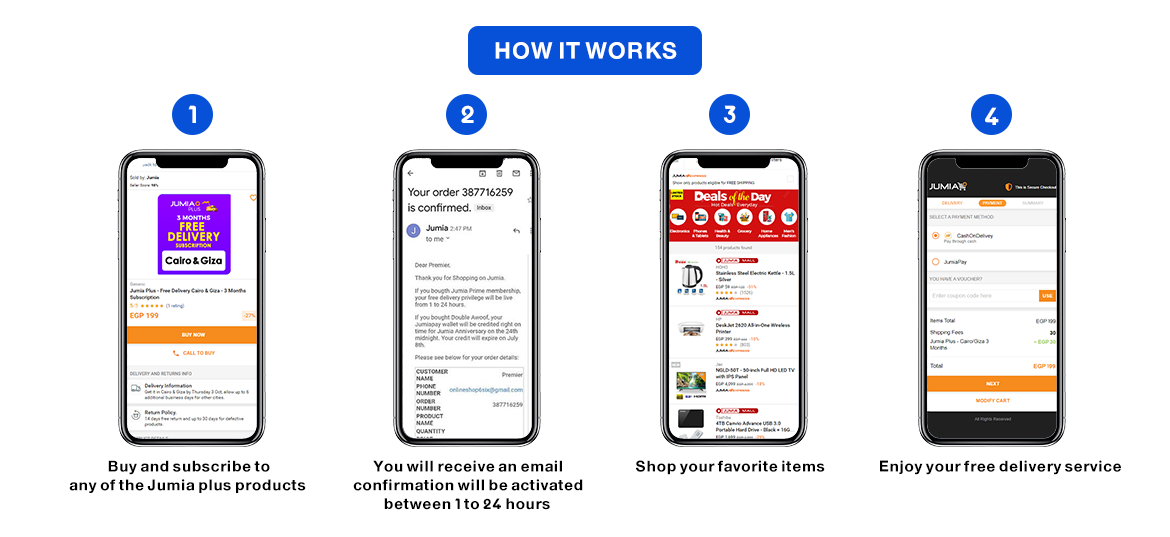 Key Features
Free Delivery in Cairo and Giza
Duration: 3 Months
No minimum order size
Covers all items on Jumia. International shipping fee may apply for Jumia Global items
Activated within 24 hours maximum
Specifications
SKU

: BR680DL0DCZDXNAFAMZ

Color

: Multicolour

Main Material

: Mix
Product Reviews (8)
3 out of 5
جيد
الخدمة جيدة و لكن غير جيدة التنظيم
5 out of 5
فكرة ممتازة
لما جوميا لغت الشحن المجانى كنت مضايق ... وكنت مش حابب الفكرة دى بس بصراحة فكرة محترمة " جوميا بريمو" وأتمنى تستمر وأتمنى بردو رجوع الشحن المجانى عشان فى عملاء مش هتقدر على " جوميا بريمو"
5 out of 5
توفير
بصراحة وفرلى فعلا
Jumia Primo - Free Delivery Cairo & Giza - 3 Months Subscription