These steel winch cables are made from extra improved plow steel (eip) galvanized aircraft grade steel winch cable. These steel winch lines have the hook end looped with a steel thimble. Bigger is better. Tired of the tiny hook that came with your winch, never being big enough to fit the end of a strap, grab onto a tow point or the like. Mega winch hook solves that problem. A winch is a wonderful security blanket for anyone venturing off-road anywhere.
Product Features:
Model Number: 000605
Type: Towing Equipment
Color: Blue
Size: 3.5 m
Strength: 6000 kg
Thickness: 12 mm
Material: Steel
Steel tow rope wire with robust locking hooks. The product works well, can effectively prevent and reduce the trailer rope vibration an improve stability. steel wire, stronger endurance, galvanized, effective anti-rust, longer service life. Sturdy metal hooks can effectively avoid the cable off the hook whenusedFor dragging small and medium vehicles. Perfect design for helping to tow your beloved car away from the place where it breaks down. A must item for drivers when they get stuck in the mud, sand or snow.
Key Features
Type: Towing Equipment
Color: Blue
Specifications
SKU

: GE810OT0SDFN6NAFAMZ

Color

: N/A

Main Material

: N/A
This product has no ratings yet.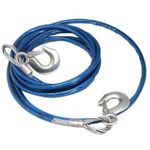 Generic Car Emergency Tow Rope