Official Store
Pril Dishwashing Liquid - 2.5L + General All Purpose Cleaner - 730ml
Pril Dishwashing Liquid - 2.5L
Pril the number 1 dish washing liquid in Egypt with green lemon, offers you superior cleaning experience. Pril Liquid has been a forerunner in the dish-washing segment ever since its inception in 1999. Its high grease dissolving powder and quick dry formula make Pril a superior cleansing agent. Since our customers deserve only the best, Pril Liquid has a unique formula making it non messy and gentle to the skin, thus leaving both your dishes as well as your hands clean, smooth and pleasant. Among other ingredients is a potent antibacterial element that easily deals with even the toughest of bacteria. With its advanced German Active + Molecules, Pril provides you holistic protection as it easily cleans grease and residual odour leaving your utensils clean and fresh. The overwhelming success of Pril Liquid in India led to the development of the Pril Utensil Cleaner Bar. It is available in 4 variants: Pril Lime, Pril Orange, Pril Lemon Fresh and Pril Anti Bacterial with Neem. Pril Liquid continues to be a heavyweight in the dish-washing segment in India, providing unparalleled protection and flawless results. Pril Liquid Detergent – The key to a clean kitchen.
General All Purpose Cleaner - 730ml
General all purpose cleaner cleans all house surfaces. With its fresh fruits frangance it gives your home unique lasting freshness and a guranteed cleaniness & shine.
How to Use: Add one drop of Pril on sponge, with no added water and it removes the toughest stains.
Key Features
Pril Dishwashing Liquid - 2.5L
General All Purpose Cleaner - 730ml
Specifications
SKU

: PR103CP08MXKDNAFAMZ

Color

: White

Main Material

: Plastic

Production Country

: Egypt
Product Reviews (11)
5 out of 5
ممتاز
ممتاز اشكر جوميااا
4 out of 5
منتج جيد
منتج جيد جدا
5 out of 5
ممتاز
ممتاز عرض حلو اوي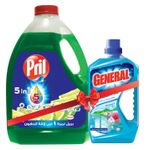 Pril Dishwashing Liquid - 2.5L + General All Purpose Cleaner - 730ml