Delivery & Returns
Delivery Information
Delivered between Wednesday 20 Jan and Sunday 24 Jan. Please check exact dates in the checkout page.
See more
Return Policy
14 days free return (except for underwear and personal items) up to 30 days for defective products with necessity for requesting a return within 24 hours from the delivery date.See more
Seller Information
New Horizon for Publishing and Distribution Marketplace
Seller Performance
This seller does not have enough history for us to evaluate his performance yet
نوع: قصص
التغليف: غلاف عادي
الناشر: نيو هورايزون
المؤلف: حسام العقباوي
لغة الكتاب: فرنساوي
La série des lecteurs élémentaires est des histoires à multi niveaux destinés aux débutants qui apprennent l'anglais. Elle présente l'anglais aux étudiants de manière à fournir la motivation durant l'apprentissage.Les CDs joints offrent de l'amusement et l'auto-formation suivant les événements de l'histoire du début jusqu'à la fin.En tant qu'histoires à multi niveaux, la série des lecteurs élémentaires est divisée selon les règles grammaticales et les structures ainsi que le nombre de mots utilisés dans chaque niveau. Eléments clés: - Matériel soigneusement évalué s'offrant aux apprentis avec une pratique appropriée sans les intimider.- Photos colorées amusantes partout dans chaque livre pour stimuler l'intérêt de l'étudiant.- L'utilisation d'une structure grammaticale de base et d'un vocabulaire limité approprié à une catégorie ciblée.- Activités simples et glossaire de photos en chaque page.-Histoires entièrement dramatisées comprenant des évènements et des photos motivantes.-CD audiovisuel.
Key Features
ISBN: 978-977-470-102-3
الفئة: قصص
المؤلف:
اللغة:
الناشر:
Specifications
SKU

: GE810BK1JN86TNAFAMZ

Author

: حسام العقباوي

Color

: N/A

Main Material

: N/A
Product Reviews (0)
This product has no reviews yet.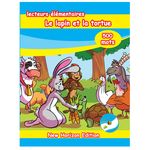 Lecteurs Élémentaires: Le Lapin Et La Tortue