DESCRIPTION
This is a new arrival 3D VR Helmet: VR BOX Play, which supports many smartphone models with Android and iOS system. Put your phone into this VR Box Play, you can enjoy the super big screen effect 3D videos, no need to go to cinema; you can also play 3D games with it, which enables great immersion experience.
The 3D Glasses is made of ABS and spherical resin lens materials without stimulation plastic sheet that is environmentally friendly, fully enclosed designed
The distance between the phone and the lens design can be adjusted so that it suits for people with different visions
Secret images, other people cannot see anything except to the wearer himself
Convenient to use for watching at any time anywhere whether sitting, lying or standing
You will not feel visual fatigue and dizzy even you use long time with the resin lens
3D picture of the screen effect is super good, awesome feeling
Only can look at the left-right 3D film
Suitable for 4.7 - 6 inch screen mobile phone
3D VR Virtual Reality glasses, wonderful Real 3D Experience
Suitable for Android and IOS smartphones with 4.7 6.0 inches screen size
Made of good quality and elegant design, with excellent workmanship
360 degree panoramic views ;Easy to use touch controls
Be transported to amazing new worlds, in games, video and images
With Smart Bluetooth Wireless Remote Control Gamepad
Key Features


Online capabilities: No
Online Registration: No
Compatible with: Smart Phones
Accessory Type: Controllers
General
SKU

: GE810EL13PTG7NAFAMZ

Color

: N/A
This product has no ratings yet.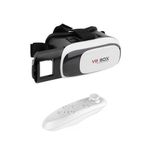 Generic Virtual Reality 3D Glass With Smart Bluetooth Wireless Remote Control Gamepad