Capacity: 1.8 L
Stainless steel concealed heating element
Type:Anti-dry ; 360 degree rotary base with Glass body
Operating Switch: Auto Shut-Off 
Durable and stain resistant
With LED light during bolling
Power: 1500 W ; Rated Voltage: 220 v, 50Hz
Kettle size: 200 X 140 X230mm
E-mail : hoho-eg@qq.comRated
· 360degree rotary base with glass body· durable and stain resistant· with LED light during bolling· button open lid · Stainless steel concealed heating plate· Boil dry safety turn-off.· Energy-saving Security
NOTE:
The LED only acts as an indicator light and does not illuminate the circle around the kettle.
The automatic power-off function does not overflow the water, and the water is not connected to the power supply, which is safer and more secure.Made of glass, durable anti-fouling cover for cleaning.
Dry Boiling Protection.
· Automatic and fuse switch off.· Automatic Boiling Shut-Off.Prevent empty kettles from heating, burning kettles or even circuit lines.

Stainless steel concealed heating element
· Highly quality stainless steel body - polished or brushed.·Non-ferrous, will not rust, Not easy to form scale. It's healthier!
Glass kettle body
·durable and stain resistant·Stylish and beautiful, with a strong sense of design·The process of boiling water is visible
Energy-saving Security
· Equipped with LED indicator, the switch button is designed to be ergonomic and convenient. After the water is boiled, the indicator light is off, and the reminder function is safer. 
· There are 360 degree connectors easy to install on the power base.Water can be boiled without alignment.
· Concealed heating element, not afraid of water pouring down the electric shock.
· Removable filter and dust-proof function, avoid contamination of clean water.
The spout design is easy to clean.The mouth of the kettle fits one hand for easy cleaning.
HOHO Brand Kettle
Popular because of professionalism.HOHO was founded in 2009. After 10 years of development, it has become a famous local brand of Egyptian household appliances, which integrates R&D, production ,sales and after sales service. The company has a factory area of 35000 square meters, more than 500 employees, two high speed SMT patch lines , 15 injection moulding machines, the annual capacity of HOHO brand 600,000 pcs 24-65 inch  LED TV, 3 million pcs Electric kettles, 20 million pcs LED lamps, also including vacuum cleaners, ovens, fans and other products . Our goal is to provide high quality and good price products to Egyptian market and export to other MEA countries.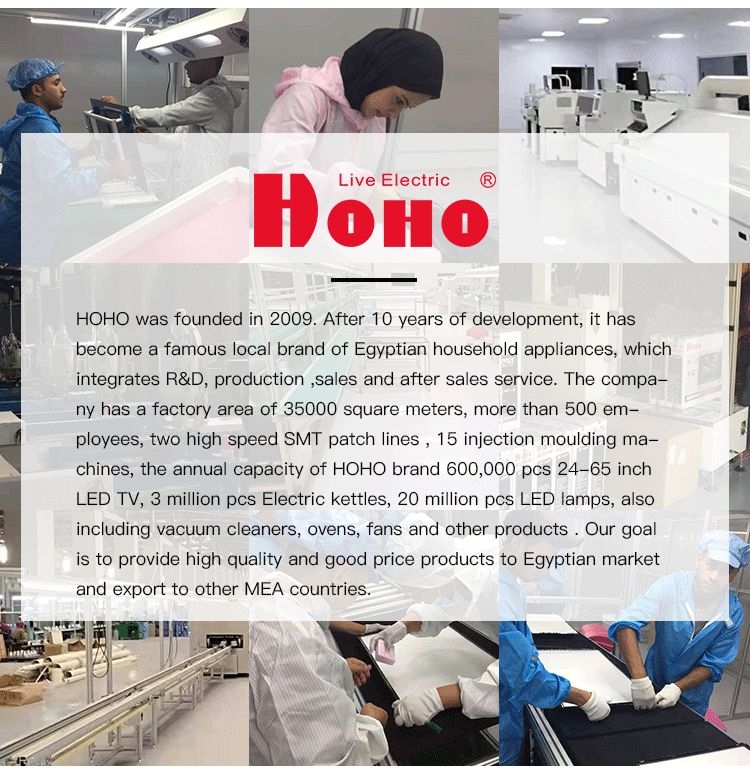 Instructions for use

Features:
1/Compact appearance: elegant color.fashion .slim&save space.
2/convenient: a 360-degree rotation(series),split-type design.
3/safety and health:three ways of electrical product safety system
  a. Boil water after cut off the power automatically
  b. Water dry after cut off the power to protect
  c. Cut off the power automatically to prevent overheating;
Before use,please not the follwing
1/Make sure that the rated voltage accomplish with rated voltage for withstanamg the normalload.
2/Must agrounded power supply into the outlet.
3/Although the proguct have dry bolling  protection device ,aim for the ectension of life. avoid to dry boil.
4/Do not let children touch the product and pull the power core to avoid burns, electric shock.
5/Do not put near to the fire source,flammable goods, and oven.
6/Put boliled water away in the first time usage.
Use Method
1. Place the Kettle on the flat surface.
2. Remove the kettie from the base, insert water not less than the minimumn water leve or exceed the maximum line
3. Put the kettle on the power outlet and connected to the base.
4. Press the switch, indicator light, Kettie began to boil wate he water boiled .
5. The water boiled off when automatically cut off the power, the indlcator light turns off.
6. You can turn off the power at any time
7. Automatically cut off the power and then re-switch it but necessarv  to wait 15-20 seconds, so that the cooling temperature sensor unit in order to re-open.


Clesn and maintenance
1. Clean before alloction of plug Remove from the base, and also the fliter, use of oil or soft detergent to clean the outer surface in order to maintain(To avoid the use of invasive and friction cleaning)
2. Avoid dipped in water to clean. prevent water erosion thermostat and plug.
3. he effect of water quality, water will be naturally occurring process in result of accumulated calcium oxide. Cleaning must be conrducted in regular.
How to remve scale
1. Loaded half water and also adding 30 milliliters of white vinegar.Stir 30 seconds after the special static, so repeat after a night can be placed (for example,need to repeat this process in case of serous)
2. Don on use any metal or hard objects to clean up hot plate otherwise it will create scratches.
3. Do no place or get the sun exposure on the barbecue fire.


Simple Maintenance
*If the water a long time cannot be found,please note the following.
1.May damege the power cord(should replace by technical person)
2.May be loose plug.
3.May not switch on the power.
4.Heat burned the body.
Key Features
Capacity: 1.8 L
Stainless steel concealed heating element
Type:Anti-dry ; 360 degree rotary base with Glass body
Operating Switch: Auto Shut-Off 
Durable and stain resistant
With LED light during bolling
What's in the box
Glass Electric Kettle
Specifications
SKU

: HO179HL19FHEPNAFAMZ

Color

: Brown

Main Material

: Glass

Model

: HOHO Kattle 8818 1.8L Brown

Production Country

: Egypt

Size (L x W x H cm)

: Kettle size:200 X 140 X230mm Packing size:190 X 190 X280mm
Product Reviews (2)
5 out of 5
غلاي فوق الممتاذ وعن تجربة
اكثر من رائع...
5 out of 5
جيد
شغال كويس
HOHO Glass Electric Kettle - 1.8L - Brown