Official Store
Shell Helix 5W-30 Ultra Premium Fully Synthetic Engine Oil - 1L
Shell Helix Ultra ECT 5w-30 is a premium-grade, fully synthetic engine oil scientifically formulated with ultimate active cleansing technology. It works harder than conventional motor oils to continuously prevent dirt and sludge build up while protecting sensitive exhaust gas treatment systems. For maximum responsiveness and improved performance, enabling your engine to operate at its full potential right up to the next oil change.
Shell Helix Ultra ECT 5w-30 is a unique, fully synthetic lubricant giving ultimate engine and exhaust after treatment protection for performance motoring , is approved by leading car manufacturers such as Mercedes Benz, VW and BMW in support of increased oil change intervals and exhaust after treatment device protection.
Shell Helix Ultra ECT 5w-30 - Applications
For fuel-injected vehicles fitted with exhaust gas 'blow-by' re-circulation, catalytic converters and particulate filters. For petrol and diesel engines approving the use of a 5W-30 engine oil.
Specifically intended for the latest Mercedes Benz, VW and BMW diesel engines fitted with exhaust after treatment and also suitable for older diesel engines requiring a 5W-30 viscosity. As the product meets ACEA C2 / ACEA C3 it is suitable for both PSA and Renault service fill.
Key Features
After 10,000 Kilos
Unsurpassed sludge protection
Nother motor oil can keep your engine closer to factory clean 1
Low viscosity and low friction characteristics for up to 1.7% greater fuel economy
Protects emission systems by helping to keep diesel particulate filters clean
Specifications
SKU

: SH314OT0XQWO1NAFAMZ

Color

: N/A

Main Material

: N/A

Model

: 5W-30 1L

Production Country

: Egypt
Product Reviews (0)
This product has no reviews yet.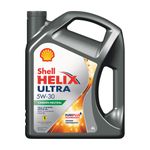 Shell Helix 5W-30 Ultra Premium Fully Synthetic Engine Oil - 1L