Delivery Information:
Delivered between Tuesday 29 Sep and Wednesday 30 Sep. Please check exact dates in the checkout page.
Beesline Whitening Body Lotion reduces the appearance of blotches and rejuvenates the skin. This Beesline Body Lotion is suitable for all skin types.The Beesline Whitening Body Lotion will make your skin feel and look good. It is formulated to keep your skin hydrated and nourished. Also, it has the ability to moisturize dry and sensitive skin. Thanks to its unique formula, this body lotion lightens skin and reduces skin blotches. This body lotion is suitable for all skin types. It comes in a compact 200ml bottle that you can easily carry in your handbag.
The rich ingredients of this Beesline Whitening body lotion helps in soothing the skin that is dry and scaly by restoring its moisture. It also reduces the appearance of blotches on the skin and helps in keeping it clean and clear.
Key Features
Brand : Beesline 
Type : Body lotion 
Size : 200 ml 
Specifications
SKU

: BE453ST0DOAKTNAFAMZ

Color

: N/A

Main Material

: N/A

Model

: 44687/2010
Product Reviews (1)
5 out of 5
جيد
جيد جدا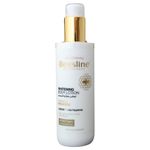 Beesline Whitening Body Lotion - 200 Ml