EGP 7,999
Sold by:
Jumia
| Positive Seller Score: 98%
Delivery Information:
Delivered between Wednesday 15 Jul and Sunday 19 Jul. Please check exact dates in the checkout page.
LED Smart TV
Enter a world of ever expanding entertainment with ATA Smart TV. Sit back and enjoy the unlimited entertainment possibilities!
Ultra HD (4K) Resolution
4K provides much more detailed and less pixel visible images than 1080p. 4K delivers better-looking image for larger screen sizes.
High Definition Multimedia Interface
This TV is equipped with an HDMI terminal to facilitate uncompressed, all-digital video and audio connections, which supports high definition video signals and multi-channel audio signals. With HDMI, you can enjoy an ideal full-digital AV reproduction that delivers noise-free and highly precise image quality.
VGA input
With a VGA port you can connect your computer to this TV and use the TV as a computer monitor.
USB Movie
The USB port in this TV allows you to connect a USB Flash drive to play and view videos, photos and music.
Technical Specifications:
Display
Screen Size: 65-inch
Panel Type: LED
Resolution: 3840 x 2160 (Ultra HD 4K)
Contrast: Mega Contrast
Aspect Ratio: 16:9
Full Color Optimizer
Wide Viewing Angle
Audio
Clear Voice II
Stereo Sound
Features
Smart TV
Smart Energy Saving
Playback format
USB: Images, Video and MP3
Inputs and Outputs
2 x HDMI
2 x USB 2.0
1 x VGA Video In
1 x VGA Audio In
1 x Video Out
1 x RJ45 (LAN)
1 x Component In
1 x COAXIAL (Side)
1 x Audio In
No RF Input
Key Features
Display Size: 65-inch
Panel Backlight: LED
Resolution: 3840 x 2160 (Ultra HD 4K)
Features: Smart TV
Connectivity: 2 x HDMI, 2 x USB, LAN
USB Multimedia Player
General
SKU

: AT933EL12UGKGNAFAMZ

Model

: 65DK5

Color

: Black

Product Warranty

: 1 Year

Production Country

: Egypt
Screen
Display Size (inches)

: 65.0

Display Type

: LED|Smart |Ultra HD 4K
Connectivity
Connectivity

: VGA|HDMI|USB 2.0
Product Reviews (2)
1 out of 5
شركتكم غير موثوق بها
انا اشتريت من عندكم منتجات بي 15 الف الف جنيه عشان من اول مشكله الاقي خدمه العملاء تبع الشركه اللي انتم واخذه من كم من على التلفزيون زفت وزباله والناس كلها بتشتكى من هم ما بيردش علي حد ازاي انتم تتعامل معه وتخلي الناس تعمل معه
3 out of 5
جيد الي حد ما
اشتريت المنتج اساسي عشانه smart بس للاسف فيه تطبيقات ما بتشتغلش عليه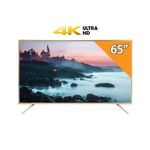 ATA 65-inch Ultra HD 4K Smart Monitor